High Cross, High Street, Hixon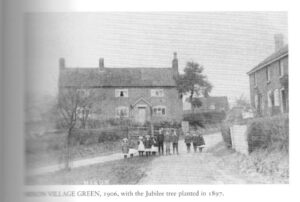 High Cross was originally listed for the first time in the 1791 enclosure award, allotted to Earl Ferrers as house buildings, orchard and croft in the parish of Stowe. As yet, there is no real date of construction officially available, as the original deeds have been lost in the midst of time. However documents relating to Chartley estate dwellings gives clues as to the date of construction, which would most likely be the late 17th century or early 18th century.
High Cross again appears in documents relating to Chartley Estate sale as lot no.94 and was let to a Mr. J.T Jackson for £19 per annum in 1905. At this time it was listed as 'valuable accommodation, conveniently situated in the village of Hixon. It comprised a brick and tiled dwelling house containing parlour, house place, kitchen, dairy, cellar and 3 bedrooms. The brick outbuildings contained 2 cow sheds each fitted with a loft over, a mixing house, fodder house and 2 piggeries with fowl house over'.
Today the house still retains its cellar, well and many original features inside.
The bread oven is a domed chamber in the kitchen with a hinged cast iron decorative door.  The oven would have been heated by filling the chamber with burning faggots of wood which would then have been scraped out before putting the dough in inside to cook. There is evidence of a chimney flue for smoke on the outside of the house.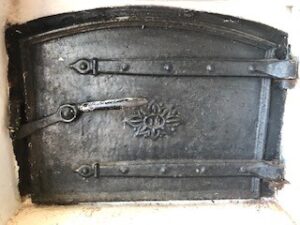 Photo from 'Around Rugeley from Old Photographs' by Thea Randall & John Anslow Amberly Press 1988.
Other features which testify to the age of High Cross include an original well in the back porch, beams in the kitchen and living room (some of them) and the original tiled fireplace in the dining room.
Fireplace and Well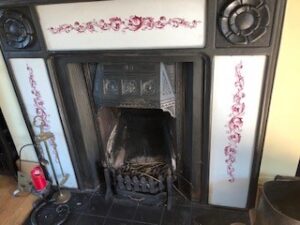 The fireplace is original and resembles a Georgian era fireplace (circa 1714 onwards); it is typically ornate with a floral design on single vertical tiles. Fireplaces from this period were that of grand proportions and typically designed to be a complete focal point of the room. There is also a fire hearth in one of the bedrooms upstairs but two others have been removed during earlier works.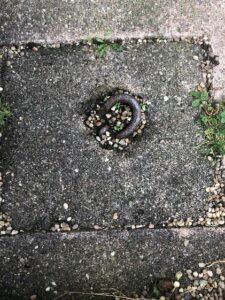 The beams in the kitchen are all original and the fireplace would have been a large hearth used for cooking. Attached to one of the central beams in the kitchen is a large wrought iron hook, which can still hold considerable weight. This might have been used for hanging a large cooking pot or drying meat.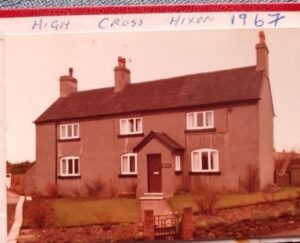 This is another picture of High Cross taken in 1967 when Dorothy (known as Dolly) and Harold Robson lived in the house. At that time it used to have a winding stair case and lots of rooms to explore. In the cellar there is still part of an old staircase which would have been part of this winding stair case throughout the dwelling perhaps, although currently this staircase leads nowhere. In common with many houses of this period, it is likely that the cellar was used for storage to preserve the life of food. The cellar is quite large and even has a small window out onto the front of the house.
Suzanne O'Farrell November 2020.